Party Wall Advice in Stanley
Stanley's trusted Party Wall etc. Act 1996 experts
Call 01207 744 123 or Freephone 0800 880 6024
At Stanley Chartered Surveyors our party wall surveyors are able to provide expert advice and assistance on matters relating to the Party Wall etc. Act 1996. Working as either the building owner's surveyor, the adjoining owner's surveyor or a joint appointment, The team's extensive experience with the complexities of the Act means they are well placed to resolve matters swiftly and amicably.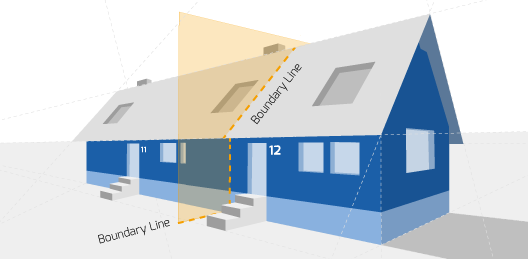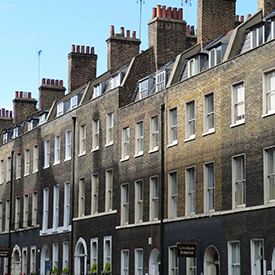 If your neighbour plans to undertake building work close to your boundary or 'party wall' line, they are required under the Party Wall etc. Act 1996 to issue a formal written notice. Luckily, a full process exists for efficiently handling disputes thereafter.
If you do want to dispute the works, our chartered surveyors in Stanley, David Straughan, is an expert at helping his clients manage the process; ensuring they fufill the Act's stringent requirements, whilst achieiving a reasonable compromise.
How can the Right Surveyors help with
your Party Wall issue?
Party Wall Notices
In most instances, the first any neighbour hears of work on the party wall is a written notice in their letterbox. In brief, party wall notices can be delivered in three core formats:
Notice of Adjacent Excavation

For excavations close to the party wall

Party Structure Notice

For actions directly affecting the party wall

Line of Junction Notice

For erection of a new wall close to or on an existing boundary
Under the Act, the building owner is obligated to notify the adjoining owner. Whilst a surveyor isn't absolutely essential at this stage, almost all building owners will request the assistance of a Chartered Surveyor to ensure nothing is ommitted and that the document is delivered according to the Act's strict requirements. The Act is renowned for its complexity and the advice of a professional, who is familiar with both Stanley's particular characteristics and with the the Act's detail, will avoid mistakes and unecessary disputes down the line.
Party Wall Awards
Sometimes, the details of the party wall activity are such that a quick compromise cannot be reached. In such situations, a formal 'dispute' has arisen and the Act provides a mechanism for dealing with this. Both parties need to appoint a surveyor, who will ideally be a qualified chartered surveyor with the RICS and a Member of the Faculty of Party Wall Surveyors (who require a minimum level of party wall experience and competency). Both parties can appoint the same surveyor, who is bound by an ethical code of conduct to be impartial and fair. The surveyor will agree a route forward and the result will be written into a binding Party Wall Award.
Photographic Schedule of Condition
Building works, however small, can be damaging to the fabric of your building - even if the works are primarily on your neighbour's property. If the neighbour of your property in Stanley is carrying out works which might impact your own buildings, we can carry out a photographic schedule of condition to append to any party wall notice, which shows the exact condition of both buildings before the works are carried out. If damage occurs thereafter, you will have an undeniable record to refer to and use as evidence.
We take pride in providing an accurate, reliable schedule of condition service in Stanley, which can help you avoid disputes and ensure that you are compensated for any damage to your property.